Saturday 9th March saw the first test day of the season and the first time my new co-driver – for the CALM Classic 4Pot Porsche Trophy – Michelle Westby had a chance to drive the 924 we'll be racing in this new series.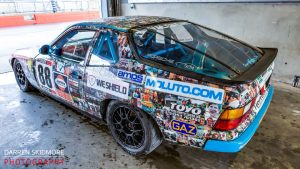 I've known Michelle now for about 10 years, having first met her when she was working as a grid girl for the Lotus Elise Trophy at Brands Hatch. Since then I've kept an eye on her career, where she's become one of the UK's leading drift drivers, and speaking to her at MotorsportDays Live at Silverstone earlier this year discovered that she had an ambition for 2019 to sample other kinds of motor racing.
I had already enroled in the new Porsche race series for the season and I thought it might present Michelle with a way of sampling circuit racing at minimal cost to herself, since she would be sharing the drive. A track day earlier in the year at Silverstone had been cancelled due to very cold weather so instead we booked into the 750 Motor Club's own track day at my favorite UK circuit – Donington.
Heading out onto the GP circuit for the first session and it was already raining. After a lap or so, what little grip there was evaporated as the heavens properly opened. With the single windscreen wiper working only on the driver's side, poor Michelle was unable to see much and before long, in my over-exuberance, I'm afraid to say I eventually parked the car in the Redgate gravel, leading to a red flag.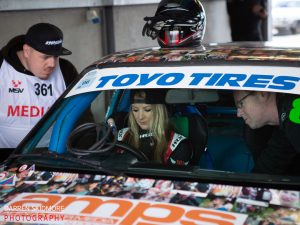 Back to the pits, apologies at the ready, but Michelle was already hungry for more and after a check over of the engine – and removal of unwanted aggregate – we saddled up for the second session. This was Michelle's first opportunity to drive the car and she was immediately taken aback by just how "mechanical" the 40+ year old Porsche was to drive. Zero driver aids, no power steering and a cable throttle meant this car would more effort just to get from A to B, let alone be raced around Donington.
The start of the session was delayed quite considerably while a crashed MINI was recovered and the associated dropped fluid cleaned up. Michelle showed no signs of nerves as we waited patiently in the pit lane. We were eventually released and the organisers did adjust the session timing so that we still managed to get quite a few laps in. I was very quickly impressed with how Michelle took to driving the car and apart from relatively minor issues with three corners, she drove really well and was starting to push the car towards its limits by the time the chequered flag appeared.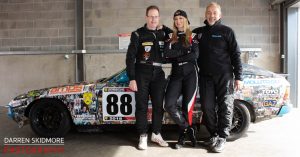 A break for lunch, and some pre-arranged interviews that Michelle and 4Pot organiser Philip Waters had scripted, and we went into the third session of the day. I started in the driver's seat as I wanted to give Michelle some specific pointers about Redgate (turn 1), Starkey's Bridge (the gentle left in the middle of Craners) and the approach to Coppice. After about five laps we pitted in order to swap over but unfortunately, damage done earlier to the alternator caused by trapped gravel meant the car stuttered and died under Michelle, so she wasn't able to put the advice into pratice.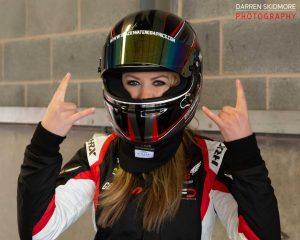 It was my intention all along that Michelle would have the final session to herself and after an alternator swap, that's exactly what we did. Although the seat wasn't in an ideal position for her – we'd not been able to adjust it on the day – she got quicker and quicker and by the chequered flag, I felt that she'd really got to grip with the car and was starting to find its grip limit on the by-now fully dry track.
Unfortunately, Silverstone have been forced to close their circuit – home of our first race together – for the entire month of June so it can be re-surfaced for both the F1 and Moto GP, so Philip is now looking to reschedule our race for another time.
My thanks to Clive of Moluto Motorsport for running the car, and Philip and Ryan for their assistance through the day.
All photos for this report kindly provided by Darren Skidmore Photography.
Here's the edited video of Michelle's first go at driving a race car on track: