After our opening round at Donington last month was cancelled due to snow, it was good to finally get to race in the 750MC Toyota MR2 championship at Brands Hatch last weekend.
We had a massive entry – 41 cars in total were on the entry list and all of us had to share the track for qualifying on the Sunday morning. That number is way in excess of the grid limit for racing, though, and we were therefore split into three groups to leave each of us being in two out of three races. Groups were selected sort-of based on qualifying times and I was to be in Race 2 and 3.
Unlike many other race cars I've driven, the MR2 still has its handbrake and on the sloping grid at Brands it enabled me to make a couple of the best starts I've ever managed. I got passed one of the Mk1s in the first lap and then found myself behind a Mk2 that I had already chased in qualifying. I wasn't able to catch him though and so spent the rest of the race defending my place against those I had got away from at the start. The race was curtailed with a car stranded in the Paddock Hill gravel trap too close to the track to safely be removed. I finished 21st out of 26 starters, 13th in Class B. Full in-car from Race 1:
For my second race I made another decent start and at Graham Hill bend, a wayward Class A car delayed a few other cars in front of me, giving me an advantage which I took to pass a fellow Rogue Class B car. I didn't do such a good job of defending this time though and a couple of fluffed gear changes meant I lost places to a pair of Class A cars who had spent several laps of frustration behind me. I finished the second race 23rd out of 27 starters, 12th in class, but with a fastest lap improved by 0.8 over qualifying. Full in-car from Race 2:
I was also delighted to meet Natalia Madlene who is employed as digital media producer by championship title sponsors Gala Performance. A Canon user like myself, this was to be her visit to Brands Hatch and was struggling to find places where she could record the images she needed while having to work "outside of the wire", ie: without a media pass. She is well travelled and has an amazing eye – visit her portfolio to see examples of her work.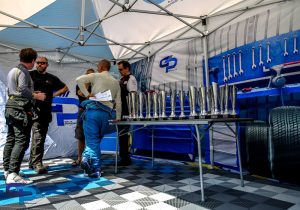 Our next races are at Mallory Park on 20th May, but I have another race coming up the weekend before which I will reveal shortly…