Last Saturday saw me return to the Britcar grid for a couple of races in the Dunlop Endurance Championship. I was to co-drive the OCC LASIK Cayman GT4, this time with newbie driver Nick Scott-Dickeson from London.
I was able to attend just the afternoon test session on the Friday but due to red flags I was only able to complete to part laps, which rendered the day almost pointless. Nick also had his sessions cut into by red flags and by the end of the day, the race grid had lost four cars, including two Aston Martin Vantage GT4s from the same team.
Race Day, Saturday morning and a short warm-up session was available and this provided Nick with his first opportunity to lap with the cars he would be racing with later. Improving on his best time from Friday, he actually posted the third best time between us.
Qualifying saw me post a time equalling my own lap record for this circuit in this car. I'd gone into the weekend with a target time but Friday's test session failure threw a spanner in the works and frankly I was concerned I was going to be off the pace. I needn't have worried though, having matched that target in my penultimate lap of qualifying. Things were starting to look up!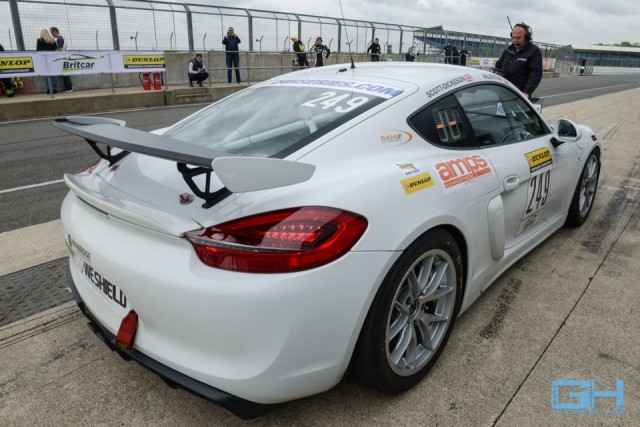 Driver physical dimensions – combined with Nick never having started a race before – suggested I should be the starting driver for both races, basically because Its easier to tighten harness belts than to loosen them! Pit stops were to be taken close to the half-way point in each race and the two of us had used some of the Friday test session to practice our driver changes. The minimum pitstop duration, at least in Race 1, was to be 120 seconds – easily enough where additional fuel would not be required, more of a challenge if a tyre change was also needed…
To save some time, Race 1 was started from the rather crowded pit lane and as soon as the red lights were out, I grabbed a few places putting me ahead of an Aston Martin Vantage plus the only other Porsche Cayman on the grid – that of Track Focused. With a determination to keep that car firmly behind, I was soon on a charge and posted a new personal best – by 2.5 seconds – on only my second lap. Our two Caymans swapped places a few times but after a spin at The Loop are around the half-way mark, I pitted to allow Nick to drive his first ever endurance race stint. His fastest lap of the race proved to be the one to take the chequered flag, 27th in a 33-car grid, fourth in class and without any problems or incidents.
With a valuable license upgrade signature now under his belt, Nick said "After practice and quali the car felt great to drive in and I kept the pace steadily upwards into the first race – which was great to drive in."
I was really chuffed to have posted a new best lap – by such a margin – and enjoyed such a fantastic battle with the other Cayman in the process.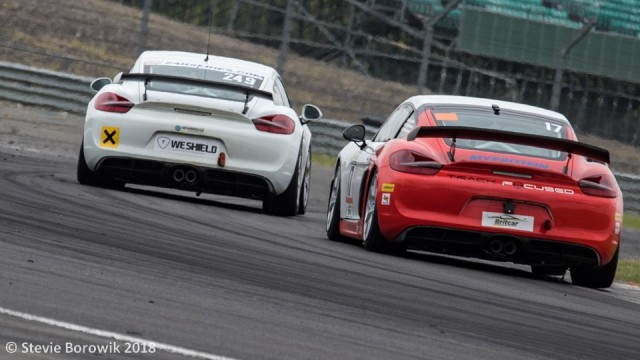 With a new set of Dunlop slicks now on the car, light rain started to spot the windscreen as I sat in the Assembly Area for Race 2 – total duration 2 hours. Unable to match my earlier pace, I had completed 9 laps before the rain started to get serious and the first of the incidents that were to dog the afternoon's action occurred, leading to a safety car deployment. The team used this as a tactical advantage, with me getting ever closer to the safety car as other drivers chose to make their pitstops early. From his long experience in the endurance arena, Newbridge manager Richard could see that a tyre change to wets was highly likely to be needed and radioed me to keep circulating at a safe pace – considering I was still on slicks – with an aim to change driver, add fuel and switch tyres all in a single stop.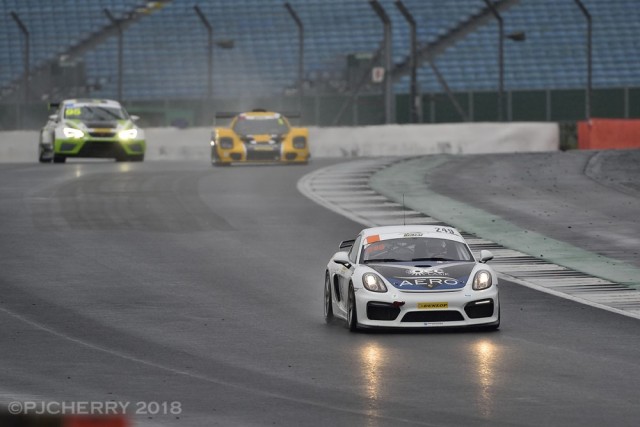 So with the stop complete and Nick now in the car, his biggest challenge – a full hour in the seat – was added to with a seriously wet track, Stowe corner becoming particularly difficult. Afterwards, Nick said "The second race was challenging especially towards the end with heavy standing water areas; thankfully I was able to keep my trust in the car and bring it home." A second signature, then, for Nick, who completed his stint with only a single spin, while no less than six other cars had crashed out or expired. Result – another 4th in class, 10th from 16 starters.
Concluding the day, Nick added a "massive thank you to Richard and the team for being so supportive throughout the whole weekend. The next aim is to make sure I'm on the grid for Oulton Park!"
Full in-car footage from my stint in Race 1:
My thanks to the whole Newbridge team for running a perfect car again. When – or even if – I'm back on track again I can't be sure as a changing domestic situation means I can't be away from home as much as race weekends demand.
And thank you to Stevie Borowick, Paul Cherry, Dave Maries, Sean Mulcahy and Gary Harman for the photos – many more are in the 2018 gallery.