Straight into qualifying and I was too fast too early on new brake pads leading to lots of smoke when I pitted the car, after five laps, for Clive to test the pressures. A rookie mistake – should have known better – so I then lost another couple of laps cooling the pads down again. Another quick visit to the pit lane and Clive said go out again to see if I could get some quick laps in. Which I did – landing a "career best" (in this championship at least) P3. Admittedly I was a way adrift from P2 – so a lot of work to do – but I was only just getting warmed up and knew I could be quicker.
Race 1 didn't go exactly to plan. I was a tad slow off the line from the second row, which made it easier for 2nd-in-championship Hugh Peart (who had mechanical issues in qualifying and had to start from last) to carve through the other cars behind me to grab third – the position I was really hoping to hang to for the entire race! Newcomer Gary Campbell got the bit between his teeth and we had a great battle, swapping places, for most of the race until we had a "coming together" at the first apex of Coppice Corner. We both span, me wide off the circuit and onto the grass, but Gary recovered quicker and took the place, never to be challenge again to the flag. I did however post a new personal best fastest lap – 0.136 seconds up on my best in the Great 924 Race on the same circuit last autumn – and I finished P5 from 7 starters, one of which joined the 6 DNFs with a blown engine – the other retirees being Class A Boxsters. Damage to both cars was fortunately just superficial. Quickly totting up the PDA championship points, finishing P5 gave me 18 points and elevated me to 56 points total – P5 in the 924 class.
Full sunshine in a cloudless sky on Sunday morning and the forecast rain looked like it had decided to miss us. Clive was confident the brake pads would do for Race 2 so they stayed on the car and after a leisurely start to the day – and a another long wait in the assembly area – we gridded up for Race 2. Newbie Garry was again quicker and beat me into P5 and although I kept him in sight, I was never close enough to challenge him. He was learning fast! Another 18 points in the bag.
Returning from the race, Clive noticed the ignition light was on and the car would no longer start – suggesting the alternator had failed. Investigation revealed a wiring issue so although a spare alternator was available, it wasn't required. What was needed, however, was a change of brake pads and a bedded-in set of a different make were fitted that would suffice for the final race of the season. With Dave Jones having finished Race 2 in the points, there was no way now that I could catch him, so there wasn't any pressure on me and I was just looking for a reasonable finish. We started with our traditional reverse grid so I was P3 but again my start wasn't particularly good and I was soon back in P6, where I stayed for the entire race, landing another 17 points.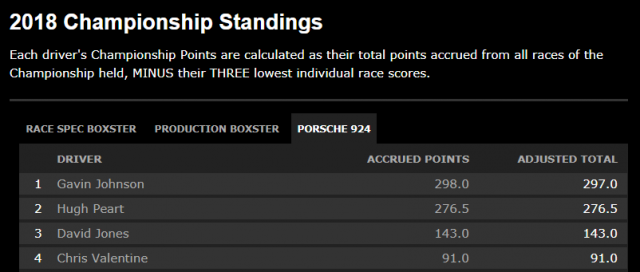 So, after just two weekends with the PDA this season and six races complete, as it turned out all being awarded full rather than half points, I finished the year on 91 points, 4th in the Championship – my highest ever in any class.
My thanks to Clive at Moluto Motorsport for running me and my sponsors AMPS UK Ltd and WeShield for their support.
Complete in-car video from Race 1, Race 2 and Race 3 are on my YouTube channel.