It was very gratifying to close my 2022 racing season – for financial reasons – with a win at Thruxton in the CALM All Porsche Trophy.
David and I were able to slot-in a Javelin track day in my road Mazda MX-5 on the Monday before the race – testing in the race car was out because Thruxton is very tight on noise with a 90db static limit for most track days. The proved very useful as it had been some years since I'd raced there and I wasn't entirely certain on all the lines.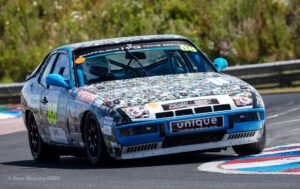 Our most serious rival for a win – experienced 924 racer and multiple championship winner Pip Hammond – put his car on pole in qualifying until David took over from me and was able to take the class pole by 1.6 seconds, an amazing 4th overall and ahead of three cars in classes above ours. I guess that's what years of experience of the circuit can give you! My best lap was 1:42.146 but David put that in the shade with a 1:32.491 !
Local rival Karl Rossin's 924 was sadly knocked out of the race after a serious clash with a Boxster, so before the race began, our already small grid was diminished further.
We decided not to change the front brake pads for the race – there was plenty of meat left on them and there are only two places that require brakes at Thruxton, with plenty of time for them to cool down between – especially now Clive has completed the extra ducting. All of the back of the circuit – from the exit of the first chicane to the entry to the last – can be done flat in a 924 with perhaps just a slight lift in a couple of places.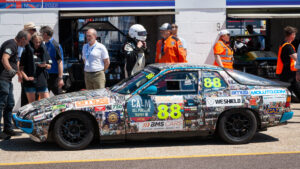 I got a pretty decent start and although Pip Hammond soon got away from me, there was no sign of the other 924s for around four laps. Ivor Mairs (similar car but left-hand drive) and Hugh Peart (blue car) got past me and I just about managed to stay with them until it was time to change driver. 8 laps in and my best time was down to 1:40.393, 0.8 seconds quicker than qualifying.
There was a race-ending disaster for Pip Hammond when he collected Darren Constant – who had been with us on the Monday track day and who had out-qualified me in the morning – at the pit entry.
As with qualifying, with David being so much faster in the car – and a podium finish set as our goal – I pitted as soon as the pit window opened and soon David was putting in faster and faster laps. Ivor Mairs left his pitstop until quite late in the window but as soon as he did his stop, David was past and extended his lead to the flag. David crossed the line 6th overall and first in class.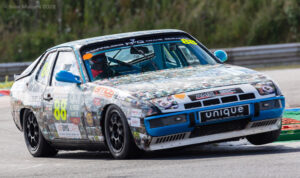 Unfortunately – due to the two incidents with the Elise – this has to be the end of my racing this season. I thank David for his co-driving and coaching and Clive at Moluto Motorsport for running such an excellent car.
Live streamed coverage of the race:
Complete in-car video from qualifying:
Complete in-car video of the entire race:
Thanks to series photographer Sean Mulcahy for the photos.