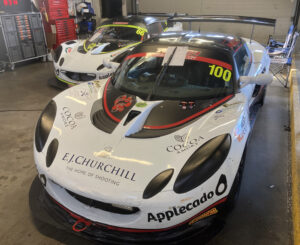 Lewis and I were at Brands Hatch (indy circuit) for what was to be my second race (Lewis' third) in the BSCS-run Lotus Elise S2 in 750MC's Roadsports series. I'd done much of my early driver training, with Malcolm Edison, in Elises so had a personal record (not very fast!) to aim for. Lewis had used the Friday test day to get used to the challenging circuit but in contrast to what he was able to do at Croft, his lap times got slower over the day rather than faster.
I arrived on the Saturday morning, confident that I knew both car and circuit well enough to go straight into qualifying. As usual, we put Lewis out in the car first and during his session I was pleased to see him post a new personal best. We then swapped over, only to have my session interrupted after just one lap. With the clock ticking down, I was beginning to wonder if there would even be enough time in the session for me to complete my three qualifying laps, but the circuit did eventually re-open and I got in an amazing 9 flying laps, all faster than my personal best from 2014 leaving us with a qualifying time of 0:57.04, putting us 22nd on the 36-car grid.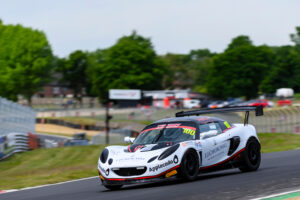 The race started but only about 10 minutes in, the safety car was deployed and as soon as the pit window opened, many of the cars chose to do their mandatory pitstop. I asked that Lewis be allowed to continue in the car as otherwise he would have had a very short and boring race, and after he'd done 20 laps, we called him in for me to take over. I managed 9 flying laps, setting another personal best of 0:56.38, but then had a slight lock-up then a spin at Druids, during which – unknown to be – the rear spoiler came off, leaving the car with much reduced rear downforce. I then span again on the same lap, this time on the exit of Surtees, probably because of the lack of wing, and shortly after, with a Ginetta G40 stranded not far off the circuit in the Paddock Hill gravel, the safety car was again deployed. This was probably a benefit to me as I wasn't able to get close to my 0:56 times.
We had done the last three laps under safety car, then the flag came out to end the race. Lewis and I had finished 24th overall, 9th in class. As the train was going up the hill, for some reason we came to a stop, but an MR2 came through the Paddock bend and for some reason didn't see me – and smashed straight into the back of me, pushing me into the car in front. So we ended up with three cars damaged, two unable to move.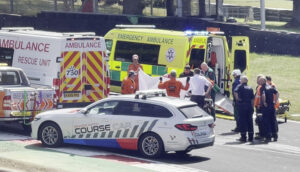 I was sat in the car, which would now no longer start, and after about a minute my neck started to hurt. On reporting this to one of the marshals, it was a case of "Thunderbirds Are Go" and they immediately called for the crash tender, circuit medics and ambulance. I lost all sense of time but my guess is the circuit was closed for 1/2 hour while they carefully extricated me from the car on a back board in a process called "full medical extraction".
I was taken to the on-site medical centre for further examination but after much prodding a poking – all the time on heart rate monitors, etc. – we concluded there was no spinal damage and they let me go.
Although we are strapped in very tightly and wear a thing called a HANS, which tethers your helmet and therefore your head to your shoulders and then to the harness; nonetheless, my head did get whiplash and as you know, that can lead to spinal injuries and that's why everyone has to be very careful getting you out of the car.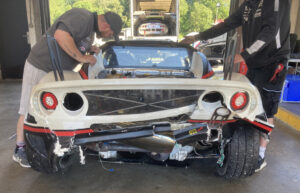 I was released from the medical centre and was given a lift back to race control where I was then interviewed by the Clerk of the Course, together with the MR2 driver who ran into me. After that I headed back to the garage to catch up with Dan and the team, who were still in the dark as to my condition. The car itself had been to the scrutineering back and we had to wait a little further before they released the car.
The cost of repair is considerable but the car is very sensibly insured, leaving me to pay the excess. But after the crash at Croft, my race budget for the season is now over-spent, so after the next round of the CALM All Porsche Trophy, which is at Snetterton next weekend, I'm going to stop racing for the rest of the year.
Here's in-car of my qualifying session:
In-car of the entire race, put together by Dan from BSCS, with my stint starting around 27:00 – and the crash happens at 45:27. WARNING: the language gets a tad fruity after that.
https://www.youtube.com/watch?v=2r2r9XgNJ7w&ab_channel=BritishSportsCarServices