Rookie driver Lewis Harrison and I were at Croft Circuit in Yorkshire for what was to be my first race in the BSCS Elise S2, after Lewis had a DNF in race 1 (with Ant) a few weeks back at Silverstone.
Both test and race days were breezy, chilly and overcast but at least we wouldn't be overheating in the car! Lewis was doing very well, listening to advice from team manager Dan and his times were getting better and better.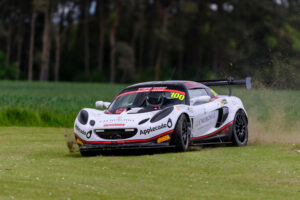 Unfortunately I encountered a brake failure at Turn 1 and ended up hitting the barrier backwards, causing quite a lot of damage, but Dan and Chris were able to fix the car enough for race day. The next day, I'd obviously been affected by the crash and made such a mess of qualifying that I decided to let Lewis do the race on his own.
The race itself was red-flagged part-way though, so even with the full 45 minutes available to him, his race wasn't exactly good but he improved his times even more and finished, meaning he finally had a signature on his licence upgrade card.
In-car VBox video of my fastest lap from qualifying:
And video of my mysterious brake failure crash at Turn 1 Clervaux during testing – we never did establish exactly what the cause was.