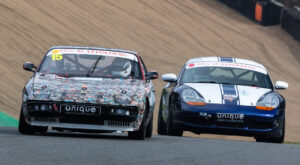 Our Brands GP round proved to be a disappointment for me but a success for David, who took home the 2nd place trophy from Race 2 on the Sunday.
We knew qualifying would be a challenge – it had been the previous year when I failed to get any qualifying laps in during the scant 20 minutes and had to qualify behind the safety car over the lunch break. I went first and only passed the finish line twice – posting just one complete, pedestrian lap – before there was a safety car and I decided to pit straight away to get David in the car.
Before we'd even completed a lap the safety car was deployed due to a car stranded at the top of paddock. Quick work by the marshals saw it quickly recovered and the circuit went green again.
Within two or three laps, David Jones had disappeared into the distance and it looked like I might have to be content with 2nd – which would be quite acceptable given Brands is DJ's home circuit. Unfortunately I got collected by one of the V8s at Clearways, which lost me a couple of places and the subsequent loss of concentration put me into the little gravel trap at Surtess meaning it was a DNF for me.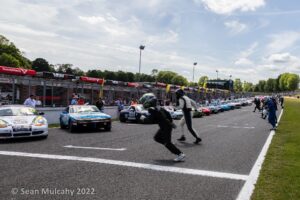 Sunday's 30-minute race – that co-driver David was to drive alone – kicked off with a LeMans style start.