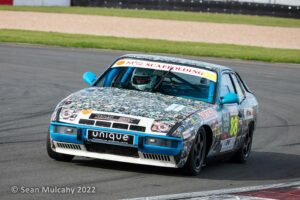 After grabbing pole in qualifying, David Hornsey and I took a class win the first CALM All Porsche Trophy race at Donington.
Car owner and team manager Clive had done a lot of work on the car since our test day just a few weeks earlier, including fitting the new fire extinguisher (UK race regs had changed since last year), a replacement exhaust manifold and the new harness set with adjustable lap belts that I'd bought to better cope with drivers of different dimensions (although David isn't much different from me).
As part of a very busy day of racing (there are now so many in the MR2 championship they have to qualify and race in groups) we were only allowed 20 minutes to qualify so we knew we would be pushed for time. David posted the fastest time for the 924 class by over 1.5 seconds, putting our #88 first on the grid.
Due to electrical and oil problems, Sam Callahan had to withdraw his 986 Boxster from the race but he wasn't removed from the grid plan in time for us lining up for the start, so I was placed by the marshals a row ahead of where I really should have been. Thinking this might lead to a post-race penalty, after the green flag lap was complete, I deliberately lined up further back.
For a change, I made a good start but was held up by another car in front of me, allowing both Karl and Hugh to pass me before the first turn. I took a place back from Hugh under braking for Old Hairpin but remained several car lengths behind Karl until I lost sight of him after a few laps.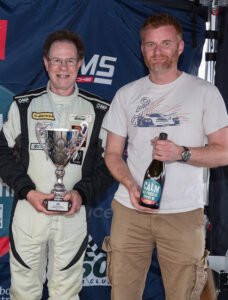 Once the field spread out I continued to lap as quick as I could – but without the psychological benefit of a tow from having a competitor in front – bearing in mind the suggestions David had made based on the in-car video from my qualifying laps. The chicane onto the Melbourne Loop now has a set of nasty kerbs near each apex and having trashed two exhausts in the last two years, I was concerned about suffering further damage – and a DNF. Looking at the lap times after, though, I improved on my best qualifying lap by 1.2 seconds.
Unbeknown to me, Karl pitted as soon as the pit window opened and was away just as I came in to swap over with David.
With Clive and I observing the live timing while on the pit wall, and Darren Constant having landing in the gravel, when we thought that only a safety car could give David a chance of catching the leader, Karl re-entered the pit lane with his radiator protruding from the bottom of the engine bay, allowing David to take the lead. Team helpers were able to secure the radiator in place with cable ties to allow Karl to re-join the race on the last lap and by doing so, he secured 3rd behind Hugh Peart.
Watch a replay of the entire race as streamed live by Alpha Live:
We race next on the Brands GP circuit next month, although the format will be different, with each of us driving a race on our own.
Photos courtesy Sean Mulcahy.