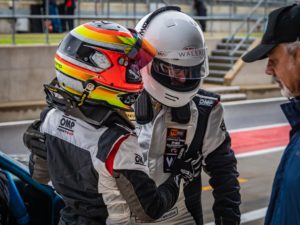 After two DNFs earlier in the year, we were really hoping for at least a finish in our race on Silverstone's International circuit on 8th August – and were rewarded with a 3rd-in-class finish with five 924s taking part.
The original plan was for Ant to start the race on the thinking that it would be quicker for the driver change. We'd practiced our driver changes a number of times between qualifying and the race and got the changeover to below the minimum time of 60 seconds. We were therefore confident that I could start the race with Ant taking over around the half-way mark to take the flag.
With such a big grid (our Porsches combined with Bernie's V8 for a total of 42 cars) it was decided to allow for two green flag laps and fortunately the safety car circulated slow enough to allow many of the cars to bunch up together. Even so, the first cars were into turn 1 (Village) before the back of the grid had even cleared the final turn (Club).
The rain that troubled us in qualify didn't return so it was a dry race for both of us. I found myself behind Andy "racing snake" Pritchard for four laps who defended superbly until I was able to scrap him off with the assistance of a couple of the V8s though Stowe to take 2nd.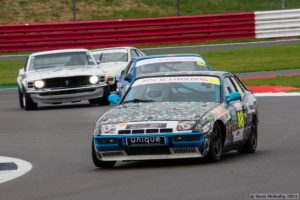 Gary Campbell took over from Andy P and re-took the class 2nd from Ant soon after our pitstop and despite Ant's lap times coming down and down – to end the race 0.7 seconds faster than me – he wasn't able to regain that position so we finished 3rd in the 924s. Ant went home grinning from ear-to-ear, his first trophy (and first upgrade signature for his race licence) going with him. I did some calculations on our lap times when I got home and Ant's average was slightly higher than mine – impressive given he'd never raced at Silverstone before.
Ant will be joining his buddy and track day business partner Sam Callahan in the CALM 924 for our next outing, which is at the Porsche Club Festival at Brands Hatch in early September, so I have recruited a different co-driver in the shape of David Hornsey. He raced a 924 in the old BRSCC Championship a few years ago and is now a professional driver for the likes of Ferrari and Aston Martin, as well as being Britcar's technical manager. It will be a tough race, in front of what could be a very large crowd, and therefore an important one for the future of the CALM All Porsche Trophy.
My thanks as always to Clive Morison for transporting and running the car for us. And to Sean Mulcahy for the photos.
In-car video from the entire race here:
And co-driver Ant Sahota later put this video together: