My final race of the 2021 season finished with another podium – the second this year – thanks mostly to my co-driver David Hornsey.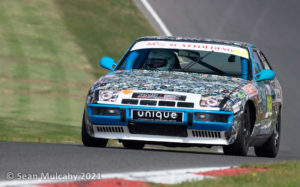 David raced 924s many years ago in both the BRSCC Porsche Championship and in CSCC Future Classics, so the model wasn't unfamiliar – but he'd not raced one in the six years since he sold his car. Clive – who runs the car for me – was unable to source the usual brake pads, so I headed out into the morning qualifying session on new pads that I'd not used before. After I'd completed 8 laps, with a best of 1:00.975 (1.2 shy of my lap record in this car), we swapped drivers for David to do his required laps. He managed a 59.286 on his fourth lap but a red flag followed by oil on the circuit meant he wasn't able to improve on that and he came in before the end of the session. Even so, that time put us in P2 on the grid, behind the #18 pairing of David Jones (DJ) & Jon Harmer who had landed class pole with a best time of 58.148. In #41, Karl Rossin was third and on 4th were #141 Sam Callahan & Ant Sahota – Ant, of course, had shared the car with me at the two previous rounds.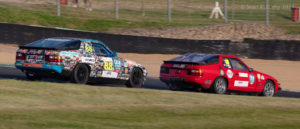 We decided it would be better if David started the race. For several laps, with Karl and Ant hot on his tail, he kept sight of #18 – to finally catch up with him at Druids where, under braking, he made accidental contact with DJ's rear. A couple of laps later David was able to get down the left of DJ at Graham Hill bend but again there was contact – whick Karl took advantage of to take 2nd.
Karl pitted just before we did but maintained his lead while #18 passed me soon after I exited the pits to jump back into third place. David pitted on his 23rd lap for me to take over and finish what for me was a pretty uneventful race in third in class. By the flag, David had posted the fastest lap of the race at 58.196 seconds.
This race will most likely be my last of this season: although there are CALM teams in the Birkett in October, I've done the race twice before and with so many cars on circuit at once, with such a massive speed differential between fastest and slowest cars, contact is becoming more and more likely. I have no firm plans yet for next season.